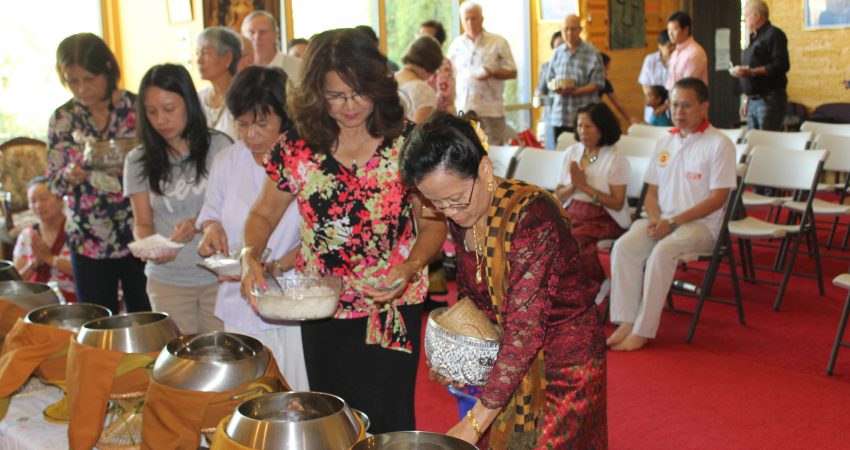 Thai Mother's Day Alms Offering & Offering for Loving-kindness Fundraiser Campaign for Land and Building Funds
August 12, 2018
10:00 am to 2:30 pm
Wat Buddhametta
You are invited to join us:
Thai Mother's Day Alms Offering & Offering for Loving-kindness Fundraiser Campaign for Land and Building Funds
At Wat Buddhametta: Tucson Buddhist Meditation Center
1133 S. Swan Rd., Tucson, AZ 85711
Sunday, August  12, 2018
10:00 a.m.–2:30 p.m.
All friends of Wat Buddhametta are invited to attend the alms offering on the occasion of Thai Mother's Day (Sunday, August 12). Wat Buddhametta would like to invite you, your family and friends to join us for the recognition and celebration to show our gratitude to our mothers who have given us great benefits. To celebrate this event, Wat Buddhametta will host the Alms Offering and Moments of Acknowledgement to all mothers on Sunday, August 12, 2018. Everyone is welcome to bring food, fruits, or any other items for this monthly alms offering. During the ceremony, lunch will be offered to the monks first, followed by a community potluck.
This year we are continuing our "Loving-kindness Funds" campaign to raise money to help pay down our mortgage. Our goal in 2018 is to raise $20,000 via pledges of $ 100.00 each to that end. If you would like to donate and help the temple raise money for our mortgage, please consider doing so at this festival as you are able. For checks, please make your donation to "Wat Buddhametta" or "Tucson Buddhist Meditation Center." We also accept cash. Your entire donation is tax deductible as Wat Buddhametta is a 501 C 3 nonprofit organization. You may also pledge your donation online at <www.tucsonbuddhistcenter.org>
Schedule of Events
10:00 a.m.   Everyone arrives at Wat Buddhametta
10:30 a.m.   Chanting of Protection by the Sangha (the community of Buddhist monks)
10:45 a.m.   The Alms Offering to the Sangha
11:15 a.m.   Lunch Offering to the Sangha
12:00 p.m.   Lunch for lay Buddhists and guests
01:30 p.m.   Dhamma talk given by the Abbot  
                      The Dhamma talk will be followed by the Loving-kindness Funds Offering by the community and The Chanting of Blessing for lay Buddhists by the Sangha.
02:30 p.m.   Ceremony ends
"May you all be well and happy."
Ajahn Sarayut: Abbot of Wat Buddhametta
Wat Buddhametta -  1133 S. Swan Road, Tucson AZ  85711
www.tucsonbuddhistcenter.org
Tel: 520-745-4624  and 520-203-6593