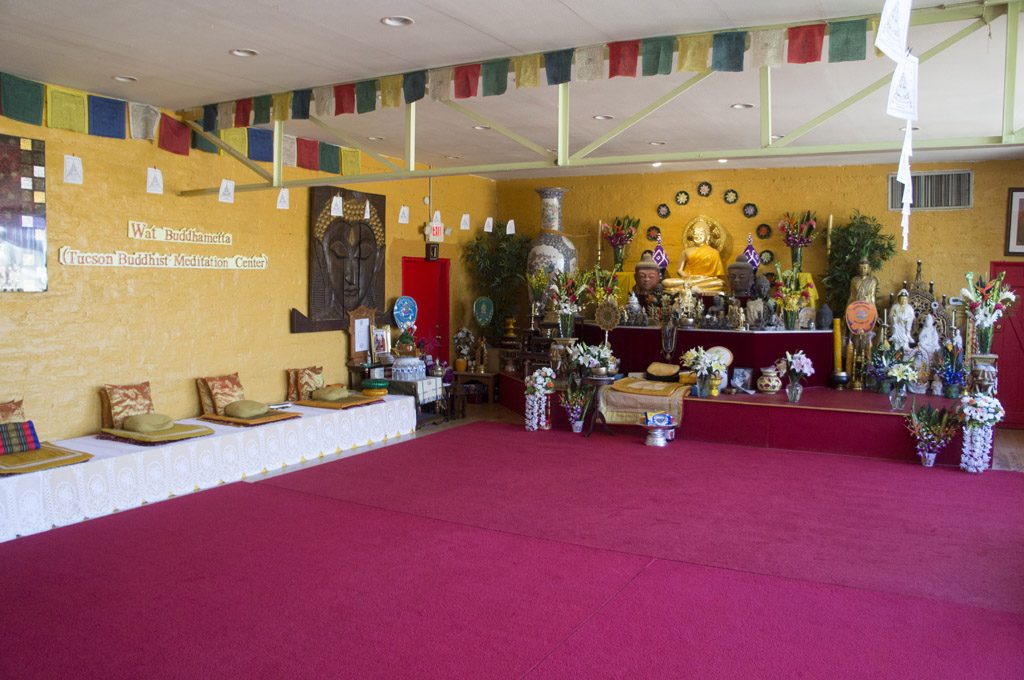 Welcome To Wat Buddhametta
Wat Buddhametta is a Buddhist monastery, temple and meditation center. It provides a place of residence for the Buddhist monastic(s), a place of worship for Buddhists, a meeting place for laypeople, and facilities for the observance of Buddhist religious practices according to the Theravada tradition. Members, students, and individuals interested in Buddhist religion and practice can join us for classes, ceremonies, meditation, and community services. Buddhist ceremonies include birth blessings, Thai Buddhist weddings, funeral services and memorial services. Hospital and hospice visits by the monks are also available upon request . We offer a 1 day long meditation retreat (monthly) that is designed for those wishing to deepen their experience in meditation and to develop insight into the workings of the mind.
About Us
Our Next Thai Food Buffet
No Published Future Event Found
July 22, 2018
9:30 am to 2:00 pm
Wat Buddhametta

You are invited to attend: Asalaha Puja Day Ceremony (Sangha Day Celebration) & Khao Pansa  Day (The Beginning Day of the Annual Rains Retreat) Sunday, July 22, 2018      10:00 a.m.-2:00 p.m. At  Wat Buddhametta: 1133 S. Swan  Road, Tucson,  AZ  85711, 520-745-4624 All friends of Wat Buddhametta are invited to attend and are welcome to bring food, fruit, etc. for the Alms Offering or a prepa...

July 27, 2018
5:30 pm to 10:30 pm

You are invited to attend: Empowerment and Inauguration Ceremony of the New Buddharupa (statue of the Buddha) and Installation of the Relics of the Buddha Ceremony July 27, 2018 (Asalaha Full Moon Puja Day) At 5:30 p.m. to 10:00 p.m. At Wat Buddhametta: 1133 S. Swan Rd., Tucson, AZ 85711 Wat Buddhametta would like to invite you to participate in the Empowerment of a new Buddharupa (the stat...

August 4, 2018
7:00 am to 10:30 am
Wat Buddhametta

Community Work Day: Clean Up the Wat's property and Wash : Saturday, August 4, 2018 Our Mission: "To use our hands and hearts in loving kindness to make our Wat Buddhametta property clean again." After the monsoon rains, the weeds have return to our land again.  It is time to re-visit the entire property to see what needs to be removed. We cleaned once in spring and now it is time to do it again ...
Cancellations
July 21, 2018
6:00 pm to 8:00 pm
Wat Buddhametta

Due to the heat of the summer months  and monsoon season of June and July we decided to cancel our Community Thai Food Buffet. I will keep you posted ...

August 4, 2018
9:00 am to 10:15 am
Wat Buddhametta

Wat Buddhametta is pleased to offer our Saturday morning Buddhist Study and Meditation class. This class is for children ages 5-8. We meet from 9:00 t...
Calendar