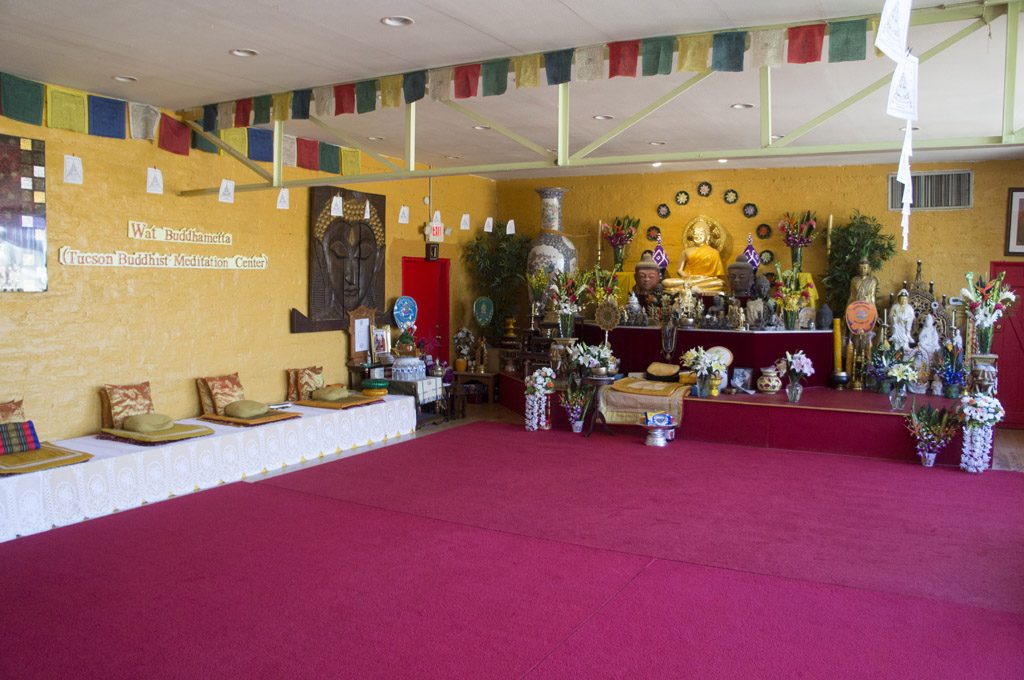 Welcome To Wat Buddhametta
Wat Buddhametta is a Buddhist monastery, temple and meditation center. It provides a place of residence for the Buddhist monastic(s), a place of worship for Buddhists, a meeting place for laypeople, and facilities for the observance of Buddhist religious practices according to the Theravada tradition. Members, students, and individuals interested in Buddhist religion and practice can join us for classes, ceremonies, meditation, and community services. Buddhist ceremonies include birth blessings, Thai Buddhist weddings, funeral services and memorial services. Hospital and hospice visits by the monks are also available upon request . We offer a 1 day long meditation retreat (monthly) that is designed for those wishing to deepen their experience in meditation and to develop insight into the workings of the mind.
PLEASE NOTE: Wat Buddhametta is currently closed for the Public Visit during the Pandemic of Covid-19. Please stay safe and healthy. Happy Holidays and Happy New Year 2021.
About Us
April 19, 2021
6:15 pm to 7:30 pm
Wat Buddhametta

Wat Buddhametta would like to invite everyone who would like to joi...

April 20, 2021
5:00 am to 7:30 am
Wat Buddhametta

Tuesday Morning Extended Silent Meditation Session (2 Hours) Join Zoom Meeting https://us02web.zoom.us/j/83255556355 Meeting ID: 832 5555 6355 Passcode: Sati101 Wat Buddhametta would like to invite you to join others for the Tuesday Morning Extended Silent M...

April 26, 2021
6:15 pm to 7:30 pm
Wat Buddhametta

Wat Buddhametta would like to invite everyone who would like to joi...

Cancellations

April 20, 2021
5:00 am to 7:30 am
Wat Buddhametta

Tuesday Morning Extended Silent Meditation Session (2 Hours) Join Zoom Meeti...

April 27, 2021
5:00 am to 7:30 am
Wat Buddhametta

Tuesday Morning Extended Silent Meditation Session (2 Hours) Join Zoom Meeti...

May 4, 2021
5:00 am to 7:30 am
Wat Buddhametta

Tuesday Morning Extended Silent Meditation Session (2 Hours) Join Zoom Meeti...

Calendar