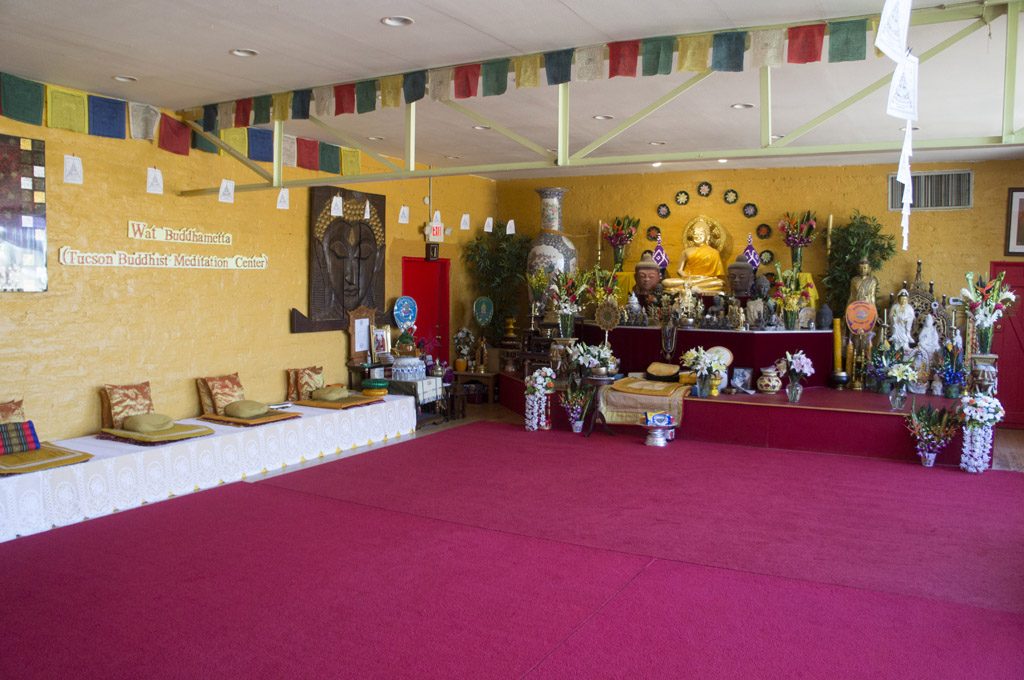 Welcome To Wat Buddhametta
Wat Buddhametta is a Buddhist monastery, temple and meditation center. It provides a place of residence for the Buddhist monastic(s), a place of worship for Buddhists, a meeting place for laypeople, and facilities for the observance of Buddhist religious practices according to the Theravada tradition. Members, students, and individuals interested in Buddhist religion and practice can join us for classes, ceremonies, meditation, and community services. Buddhist ceremonies include birth blessings, Thai Buddhist weddings, funeral services and memorial services. Hospital and hospice visits by the monks are also available upon request . We offer a 1 day long meditation retreat (monthly) that is designed for those wishing to deepen their experience in meditation and to develop insight into the workings of the mind.
PLEASE NOTE:
Temporary Closure of Wat Buddhametta and Tucson Buddhist Meditation Center
As of the 17th of January 2022, Wat Buddhametta will be closed to the public.
It is with a sense of responsibility for all of you that it has been decided to close our Wat/temple temporarily. In an effort to ensure that all people who come to Wat Buddhametta are protected and to ensure compliance with State and Federal guidelines during the present health crisis, the surge of the Omicron variant of COVID-19,  all classes, ceremonies, meditation sessions and private consultations will be canceled until further notice*. We will do our utmost to conduct the ceremonies and classes and make them available by live-streaming video online through "Ajahn Sarayut's Page" on Facebook. It is our duty to protect our community both in and out of the Wat, therefore, these steps have been taken. Your understanding of this situation is greatly appreciated.  Please keep yourselves safe during these uncertain times.
* For those who would like to bring alms offerings to the monks, a table has been set up outside the front door. Please drop off your offerings there. Kindly advise us before you come by calling this number: 520-203-6593.
May the blessings be with you all.
Phra KruPanyasiddhivides (Ajahn Sarayut Arnanta), Abbot
About Us
No Published Future Event Found
Cancellations
January 29, 2022
3:00 pm to 4:00 pm
Wat Buddhametta

Saturday Afternoon Guided Meditation  3:00 p.m. to 4:00 p.m.  PLEASE NOTE: As of January...

January 30, 2022
6:00 pm to 7:30 pm
Wat Buddhametta

 PLEASE NOTE: As of January 16 , 2022, Sunday Evening Meditation will be suspended indefinitely. This suspen...

February 5, 2022
3:00 pm to 4:00 pm
Wat Buddhametta

Saturday Afternoon Guided Meditation  3:00 p.m. to 4:00 p.m.  PLEASE NOTE: As of January...
Calendar