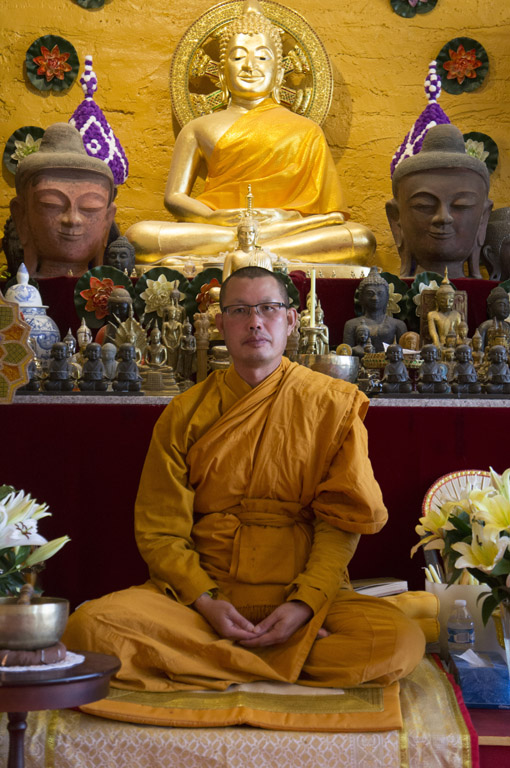 Ajahn Sarayut Arnanta
Ajahn Sarayut Arnanta is the founding abbot of the Wat Buddhametta: Tucson Buddhist Meditation Center and currently serves as the Vice-President of Dhammaratanaram Temple(the temple he first served in the US). Born in Chiang Rai, the northern province of Thailand, he became a monk in 1983 when he was 15 and took full ordination at age 21 in 1989. Ajahn, the title for a Thai Buddhist monk, means "Teacher" or "Master." He is also a poet and has written a number of poems, some were published in "Sandscript" the literature magazine for Pima Community College. He regularly leads meditation: Vipassana (mindfulness) and Metta (loving friendliness) at Wat Buddhametta: Tucson Buddhist Meditation Center and elsewhere. Ajahn Sarayut has been teaching Buddhism and meditation since he first moved to the United States in 2000.
Prior to coming to the United States, he studied and practiced Vipassana meditation for many years with his master, Ajahn Suphan, the abbot of Wat Rampeong, Chiang Mai, Thailand. He spent one year doing missionary work in Malaysia. When he moved to the United States in 2000,he volunteered to teach Mindfulness meditation in a number of places including Dhammaratanaram Temple, Federal prisons, jails, and public libraries. Since 2000, Ajahn Sarayut served as secretary and treasurer of Dhammaratanaram Temple and in 2010 he became Co-President and Abbot. With intention to bring Buddhism and meditation to Westerners, in 2006 he founded the group, "The Way of Mindfulness Meditation of Tucson". In 2009 he founded "Tucson Buddhist Study Group" with Ken Goldberg, attorney, and his dear friend and student. Ajahn Sarayut's vision is to bring Buddhism to the heart of the local community of Tucson and surrounding area. He says, "If the teaching of the Buddha is universal it should work and benefit all people regardless of who they are and what faith they believe in."
Ajahn Sarayut is very active in social work in the Tucson community. Currently he works with Brother Davis, a Franciscan monk dedicated to helping the homeless in Tucson and with Tucson Cultural Exchange, now merged with Tucson Meet Yourself, a non-profit organization that brings people from various cultures to work together in the Southwest. In the past, he worked with local organizations including Tucson Samaritan and No More Deaths. No More Deaths is a humanitarian organization dedicated to saving lives of people from Mexico and Latin counties who cross the Sonoran desert in order to seek a better life in the United States.
In 2009, with his intention and vision to bring Buddhism and meditation to more people in Tucson, Ajahn Sarayut(with the help of the Buddhist community)purchased the adobe structure and property that would become Wat Buddhametta. Located in the center of Tucson, this temple allows him to make Buddhism more accessible to the local community and better serve the Thai and Asian communities. Wat Buddhametta (the loving-kindness of the Buddha) reflects Ajahn Sarayut's vision and great heart of loving-kindness and compassion for the community where he serves. His poetry writing about life and self-realization reflects a strong influence of Buddhism. His work is the dedication to the Buddha, his true Master of guidance to end suffering.
Ajahn Sarayut is a caring teacher and spiritual guide that gives his time and effort to the community. He allows to be reached by anyone when he is free from his busy schedule. Please refer to Ajahn's calendar below to see availability to contact him for a one-on-one appointment.