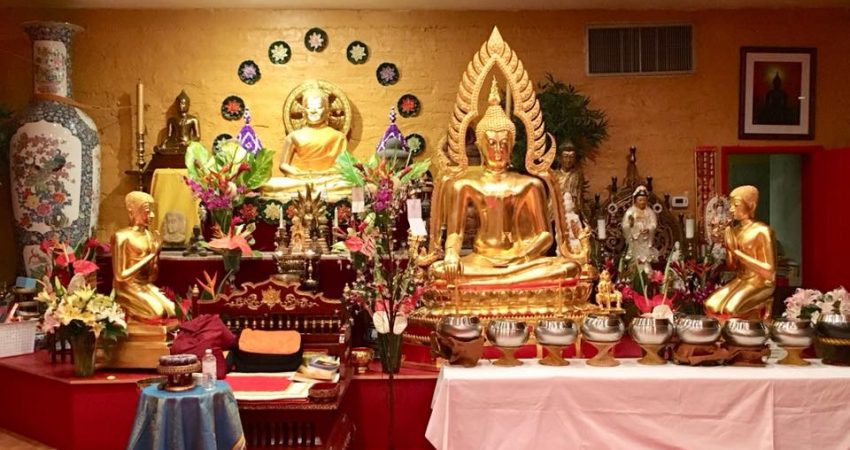 Virtual: Sunday Morning Buddhist Ceremony
October 18, 2020
9:00 am to 11:00 am
Wat Buddhametta
WELCOME
Virtual: Sunday Morning Ceremony online from Wat Buddhametta.
9:00 a.m. to 11:00 a.m.
All are welcome to join us.
Due to the public health concern about the coronavirus in the community, we, at Wat Buddhametta, are pleased to invite everyone to participate ONLINE with us for our Virtual Online Sunday Morning Ceremony through Ajahn Sarayut Arnanta's Facebook page. The ceremony will be held at Wat Buddhametta and will be on streaming live video and available to all of you who would like to join us online from wherever you are.
During this public health crisis, we discourage our community members from coming to the Wat for any reason and to participate in the ceremony online. In this way you can stay connected with Wat Buddhametta but NOT in person. We want to make sure that everyone follows the guidelines and recommendations of the public health officials at local, state and national levels.
Outline of Ceremony
Time 9:00 a.m. to 11:00 a.m.
-9:00 a.m. Opening ceremony with 3 bells calling for the moment of silence.
-Bow in 3 times to pay homage to the Buddha, the Dhamma, and the Sangha.
-Greetings from the Abbot.
-Taking Refuge in the Buddha, the Dhamma, and the Sangha.
-Taking/observing the 5 precepts of Buddhist Moral Discipline.
-Morning Chanting and Paritta Verses of Protection.
-20 minutes of Guided Meditation.
- Dhamma Reflection.
-Receiving the Blessings
-Closing ceremony with three bows out
May the blessings be with you all.
AjahnPhrakrupanyasiddhivides (Ajahn Sarayut Arnanta)
Abbot of Wat Buddhametta