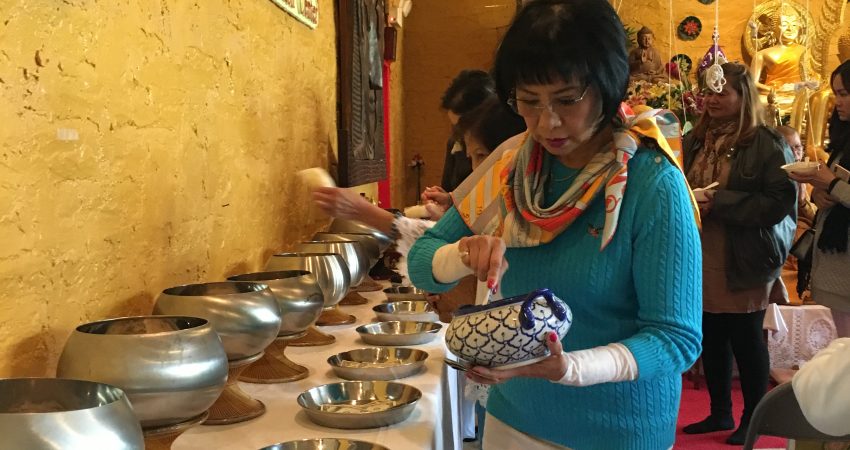 Visakha Puja Ceremony (The Buddha's Birthday Celebration)
May 15, 2022
9:45 am to 2:00 pm
Wat Buddhametta
Visakha Puja Ceremony (The Buddha's Birthday Celebration)
Sunday, May 15, 2022
9:45 a.m.–2:00 p.m.
Wat Buddhametta: Tucson Buddhist Meditation Center
1133 S. Swan Road, Tucson, AZ  85711
We will celebrate Visakha Puja Day to commemorate 2,645 years since the birth of Buddha, 2,610 years since his enlightenment and 2565 years since his passing away. Each of these occurred on the full moon day of the month of Visakha. This year the exact Visakha Puja Day falls on the full moon day of May 15, 2022/2565(BE). It is an auspicious occasion to celebrate the Buddha's birthday, renew old friendships and to make new ones. If you would like to join the alms offering, you may bring food, fruits, and other basic needs for the monks for the alms offering ceremony. You are also welcome to bring a prepared dish to offer to the monks and share with others for lunch. You are all welcome to bring your family and friends to participate in this Buddhist ceremony. Whenever possible, the ceremonies will be bilingual, in Thai and English.
Schedule
Sunday, May 15, 2022/2565
09:45 a.m.     Gathering of the monks (Sangha), Buddhist lay people and guests
10.00 a.m.     The Triple Gem Devotional for the congregation
10.45 a.m.     The chanting of protection by the monks
11.00 a.m.     Alms offering for the monks
11.15 a.m.     Lunch served to the monks
12.00 p.m.     Lunch for all laypeople
01.30 p.m.     The Buddha Commemoration ceremony:
Sermon, gift offerings to monks, closing blessing for all people
02:00 p.m.     Candlelight Procession in the garden to recognize the Buddha's birthday
All are cordially invited to attend the ceremony.
Ajahn Phrakrupanyasiddhivides (Ajahn Sarayut Arnanta)
Abbot of Wat Buddhametta
For more information contact the temple:
520-745-4624, Direct line to Abbot 520-203-6593 or visit www.tucsonbuddhistcenter.org